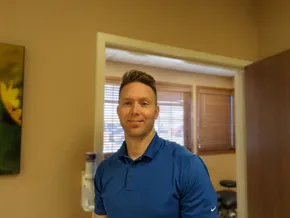 Dr. Ryan is an evidence-based chiropractor who serves Centennial, Greenwood Village and Parker including surrounding communities in Douglas County. Dr. Ryan earned his doctorate in chiropractic at the University of Wester States in Portland, Oregon. While pursuing his doctorate at the University of Western States, Dr. Ryan pursued a Bachelors degree in Human Biology and a Masters degree in Exercise & Sports Science. Prior to attending graduate school, Dr. Ryan attended Brigham Young University - Hawaii where he studied international business management.
While Dr. Ryan was still a chiropractic intern in his Masters program at the University of Western States, he had a unique opportunity to treat athletes from all over the world at the Maccabiah Jewish Olympics throughout Israel in 2013. With a background and education in Exercise & Sports Science, Dr. Ryan treated a variety of sports related injuries over the span of two weeks during the games. Currently, Dr. Ryan implements his experiences and education from that unique opportunity in his practice today.
Even in his early years, Dr. Ryan has always had an interest in helping people. Now as a doctor of chiropractic, he spends copious hours a week helping patients feel better and function smoother. Since Dr. Ryan is fluent in the Spanish language, he also helps so many of our Spanish speaking patients here in the Denver area. Dr. Ryan is one of a few chiropractors who can speak Spanish fluently so that all of our patients can feel more comfortable speaking their own language here in the office.
When Dr. Ryan is not treating patients in the office, he spends time with family, playing softball, golfing, mountain biking, hiking Colorado's tallest mountains, boating, and motorcycle riding.