At High Caliber Chiropractic, we take great pride in providing the finest chiropractic wellness care to our patients. Below is a sampling of the different chiropractic services we offer.
Chiropractic Care
We provide spinal correction utilizing gentle chiropractic techniques. Never in the history of chiropractic have we been able to provide the level of help and expertise that now exists. These newer correction methods are safer, more comfortable and more effective than ever before. As a Doctor of Chiropractic, Dr. Troy Ryan, DC has extensive training and experience in spinal adjustment.
---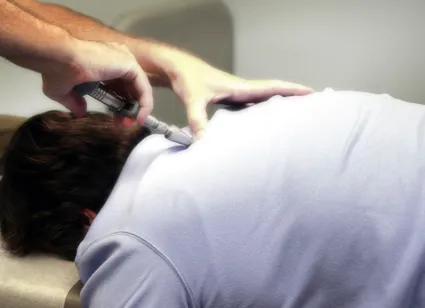 Instrument Assisted Adjustments
At High Caliber Chiropractic we use instrument assisted techniques to adjust the spine. We understand that some of our patients don't respond as well as others to a more traditional chiropractic adjustment, so our treatments are tailor made to the patient and their needs. With instrument assisted adjustments, there is no audible popping noise or forceful thrusting anywhere in the spine. The instrument is called the Arthrostim and it oscillates at different frequencies and speeds to deliver a comfortable adjustment that is just as effective as a more traditional adjustment. Instrument assisted adjustments can be helpful in cases where a patient has osteopenia or osteoporosis. And some patients may be apprehensive about receiving a chiropractic adjustment. An adjustment from the Arthrostim can certainly put those fears, worries and doubts to rest.
---
Soft Tissue Mobilization
That's right, you get soft tissue therapy with your adjustment! Sometimes it is necessary to reduce the amount of tension or tightness in a particular muscle before an adjustment can be delivered effectively. Most patients who suffer from low back pain will have a muscle imbalance or an asymmetry in how muscles are pulling on the spine. It is important to address this excess tension in the muscle first to ensure that the vertebrae being adjusted don't move back to their original position prior to the adjustment. There are times when a patient needs soft tissue therapy in the form of trigger point therapy, myofascial release therapy, or functional stretching. The idea behind this is to change the tone of the muscle and help it become more flaccid and elastic.
---
Transcutaneous Electrical Nerve Stimulation (TENS)
Muscles that become very tight and rigid over time can trigger a muscle spasm. Sometimes a recent onset of an injury can induce muscle spasm and subsequent pain. A TENS unit will deliver a low grade electrical current through the skin over these spastic muscles to get them to release and change their tone. The TENS unit can also be beneficial to diminish pain by turning off the pain receptors in the area being treated. Although, the TENS cannot treat the root cause of the problem you might be faced with, it can certainly make you feel more comfortable for a chiropractic adjustment.
---
Low Level Light Therapy
With a state-of-the-art Class III portable laser, High Caliber Chiropractic can provide laser therapy to patients suffering from chronic pain, inflammatory processes, and joint swelling. The laser therapy helps to reduce swelling and edema in the body by accelerating the tissue healing process at the cell level in the body. Basically, we want to decrease inflammation and speed up the healing process so you can get back to doing the things you love the most. The laser therapy can be used as a stand alone therapy or combined with your chiropractic care.
---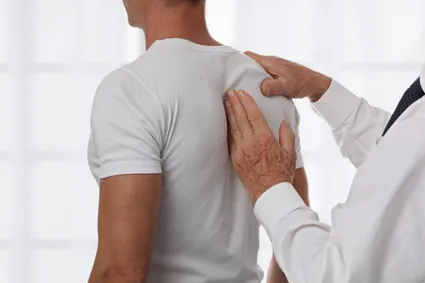 Spinal & Postural Screenings
Posture and spinal screenings can reveal important health information and unlock the door to improved health and well-being. We provide screenings at community events, health fairs and places of employment. Contact us today to arrange a screening at your event or workplace.